Brand name & Character Introduction
We named our company "GREEN TOMATO" from what is an intimate thing that people in the world know.
As you grow tomatoes; sow the seeds, the bud out, flowering and bearing fruits.
'You grow us up!' is our theme.
Prince 純(Jun); Pure and Princess 愛(Ai); love were born as our characters
at countryside and cute green tomatoes were produced in Chiba, Japan. They
are 1 year old, hoping you will cherish them. We hope that they heal you with pure heart and love.
Thank you.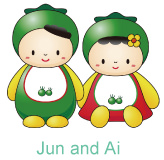 Company Profile
Company Name

GREEN TOMATO CO., LTD.

CEO and President

Ai Kaneko

Address

205-2, Iwayama, Shibayama-machi, Sanbu-gun, Chiba, 289-1608, Japan

Phone Number

81-479-857522


Established

March 3, 2011

Travel License Number

Chiba prefecture 2-855 by Japan Tourism Agency
- Scope of Activities : Overseas Travel, Domestic Travel
- Date of License : 13FEB, 2012
- Term of Validity : 13FEB, 2022 to 12FEB, 2027
- Certified Travel Services Manager : Shigeru Okutsu

Office Hour

Monday to Friday : 10:00-17:00

Homepage site available hour

24hours everyday (except regular maintnance hours)

Custmer Support desk

81-479-857522

Our Business

Green Tomato Co., Ltd. is a travel agent/tour operator featuring main products called "Airport
Shuttle" for shared transfer and "Chartered Shuttle" for private chartered transfer between Narita
Airport and Tokyo 15 wards/Maihama area. We keep growing and making original unique
products. We arrange custom-made tour for both business and pleasure. We also arrange your
travel parts as you wish. We will handle emergency matters promptly since our office is
conveniently located just 10 minutes away from Narita Airport.